There are many ways to celebrate it, but if you haven't planned it yet, gifting your partner a bouquet would be a great idea.
Reaching your first anniversary is a major milestone in your life. The first year after your marriage is wonderful when you get to know more about your better half, and reaching this milestone deserves a celebration. There are many ways to celebrate it, but if you haven't planned it yet, gifting your partner a bouquet would be a great idea. Some things need to be remembered while selecting flowers for this event. Here are some must remember tips:
1. What is the official flower for the first anniversary?
It is believed that carnation is the official flower for the first anniversary. This is because carnations symbolize affection, the same affection you have for your better half. Carnations come in many shades, ranging from light yellow to bright blue. These flowers can be combined to make a great bouquet, and we can even make an exclusive arrangement just for you.
2. What color flowers can you choose for your first anniversary?
The first year of your marriage is filled with love and adoration, and the best color to portray this love is the classic red. The classic red will symbolize the love you have for your partner, and on the occasion of your first anniversary, it becomes very necessary that you leave no stone unturned upon choosing the best color. If you don't like red color, you can choose the color pink as it will also symbolize love, admiration for each other, and understanding. The third color will be orange, which will symbolize the warmth and passion you have for your partner. According to us, tulips and lilies will be a great choice if you want something in orange and pink. Choose for our anniversary flower delivery services from us and the occasion even more memorable.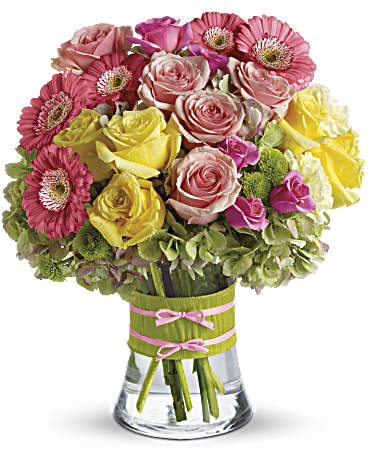 3. What are the other types of flowers that are a little different?
If you want your flowers to be classic, then traditional flowers are to be chosen. Still, suppose your partner doesn't like traditional flowers and prefers bright, modern, and different flowers. In that case, rainbow roses are a great choice as they are unique, extremely beautiful, and feel different. If you want to make her extremely happy and at the same time want to make your gift different and memorable so that she will remember it for the rest of her life, then you should revisit your wedding album and see what flowers she chose for her wedding bouquet. This will be great as every girl loves her wedding bouquet.
4. How to deliver your flowers in a memorable way for your first anniversary?
If you want your first anniversary flowers to be felt differently rather than just simply giving them to her, then you have to put some extra thought into how to make it special. Women like it when their better half delivers it to her, and we have to be careful with the presentation style. If you want something classy and gorgeous, you can present your flowers in a glass box or a glass vase. Now you can order flowers in Gaylord Mi directly from us and gift them to the love of your life.
5. Other anniversary gifts you can gift her apart from flowers?
To make your first-anniversary gift extra special, you can give her chocolates along with flowers as girls tend to like chocolate, and apart from it, you can also give her a nice hand watch which will put a smile on her face. Other than that, you can write something beautiful about your relationship on a card and present it to her on the day of your anniversary.
The first anniversary is always special, and it is up to you to make the day even more special. Our flowers are always there, and we do our best to give you the best quality flowers. You can explore products like Rosemary flowers and much more directly from our website.